Abrams' TowerWroclaw
This is an extraordinary place housed inside a medieval tower. It was started by a Californian multimedia artist who's lived in Europe for more than 20 years, and his Polish chef, who spent five years in London learning to make a wide variety of exotic dishes and his own inventive masterpieces. Together they offer the best burritos in the city, authentic -tasting Thai soups, tikka masala, tajines, couscous and delicious fusion dishes such as salmon with sausage and parmesan chicken. They also play global music that is rarely heard anywhere else.
This is a beautiful vegetarian restaurant with a candlelit, cosy atmosphere. You can relax in the stunning interior, while listening to the score from Amélie (well, when I was there anyway). The food is delicious and you get traditional Polish food, vegetarian style.
Once Upon A Time In Kazimierz, Krakow
A little restaurant in the heart of Krakow's old Jewish ghetto, this is a slightly bonkers but very endearing place to dine. The menu is simple, with possibly no more than a dozen dishes including starters, mains and desserts. And be advised: if you order a plate of
pirogi
(the local dumplings), you get just that: no salad, sides, or even sauce. Despite this, the food is delicious (I recommend the duck with cranberry). The decor is quirky, full of history, and the tables are an eclectic mix of old sewing desks and things that resemble small workbenches.
Farina, Krakow
This restaurant, a couple of minutes from Rynek Glowny (the historic market square) has a menu comprising Mediterranean dishes, pasta, traditional Polish cuisine and – its speciality – fresh fish. It's a charming venue: the decoration is rustic, with light green walls, wooden furniture, wooden shutters and subdued lighting. The food, too, was excellent, well cooked, well presented and very tasty. And, though not the cheapest place to eat in Krakow, it was very good value.
Bar Mleczny Turystyczny, Gdansk
A
bar mleczny
(literally "milk bar") is a type of very cheap restaurant, which serves Polish national dishes. Bar Mleczny Turystyczny, situated right in the centre of the port city of Gdansk, is a unique place in which you can have a quality full meal for as little as 50p. You can often meet backpackers from different parts of the world there.
Szeroka 8/10
CAFES AND BARS
Alchemia bar, Krakow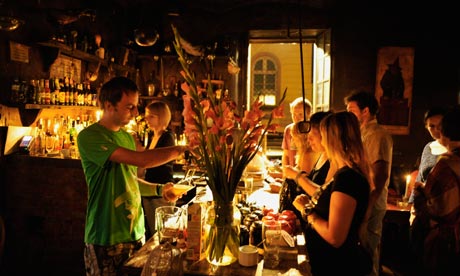 Alchemia is a great bar snuggled into the corner of Plac Nowy. The interior is illuminated by candlelight, creating a warm and inviting atmosphere. They have a great selection of beers, vodkas, divine "real" hot chocolate and great cakes (chocolate and cherry was my favourite). I can't think of anywhere nicer to install yourself on a cold evening in Krakow.
ul. Estery 5 (corner of Plac Nowy),
Pod Kogutkiem, Krakow
This tiny cafe in the old Jewish quarter of Kazimierz looks more like a sitting room, and you can spend as much time as you like there. The owner is the barista, and makes the best coffee I've had in Krakow. He doesn't talk much to customers, but really likes to chat with his friend, who is an artist and sells his works right there in the cafe.
ul. Jozefa 11
Bona Bookshop and Coffee House, Krakow
This small bookshop and cafe on a very attractive street close to the main centre has wonderful coffee, biscuits and cake, a clean loo and friendly staff. You can sit undisturbed and gaze out of the open door or sit outside if it's fine.
ul. Kanonicka
Massolit Books and Cafe, Krakow
Tucked away down a side street on the east side of Krakow is Massolit Books and Cafe. If you ever wanted your favourite secondhand bookshop to have comfy sofas, good coffee and excellent cake, here it is. Although I don't read much at home, I love to read authors of the country I'm visiting, but it's not always easy to find them translated. Here you can. Could take you an hour, could take you all morning, the sun gently filtering through the blinds.
ul. Felicjanek 4, Totskalini
Spiz, Wroclaw
Spiz is a pub on the corner of the market square. It is a microbrewery serving the best beer in Wroclaw, perhaps even
Poland
. Plus you also get a free bread and
smalec
(dripping).
Rynek-Ratusz 2
Ghotifish
Miedzy Nami,

Warsaw
Meaning, "between us", this cafe-bar is a hidden gem in the hustle and bustle of central Warsaw. Full of local arty types, this is a mixed bar (meaning gay- and straight-friendly) that appeals to folk of all ages and nationalities. It really gives visitors an insight into the cool and prosperous side of Poland. Lush.
ul. Bracka 20,

miedzynamicafe.com
Walski
---
ACCOMMODATION
Tango House B&B, Krakow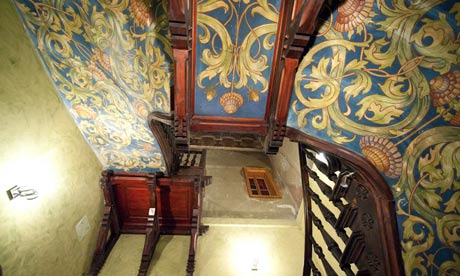 This place is one of my favourites. The building was a public bath house in the 15th century, but the rooms are modern with free Wi-Fi. The place has a small tango cafe (the whole house is decorated in a tango style) where they serve a good buffet breakfast. Staff are very warm and friendly. You can also get a tango lesson from the owner!
ul. Szpitalna 4, +48 (0) 12 429 3114,

tangohouse.pl
travelwizard
Nathan's Villa hostel, Warsaw
This hostel is in a perfect location: everything is within walking distance. Both you and your possessions are safe as you don't just have a key to your room but there are a few locked doors you need to get through before getting to your room. The bar is excellent, with friendly staff, cheap drinks (even if it's not happy hour) and pool, table tennis, cards and board games available as well as a mini cinema.
ul. Piekna 24/26, + 48 (0) 22 622 2946
nathansvilla.com
emmaquinns
Castle Inn, Warsaw
This boutique hotel in the centre of the old town overlooking castle square is in a great location, with friendly staff and comfortable rooms each decorated in a different style. It's good value too – we paid the equivalent of £55 for a double room.
2 Swietojanska, Plac Zamkowy, Warsaw, +48 (0) 22 425 0100,
castleinn.pl
martinplant
Alef Hotel, Krakow
This unassuming boutique hotel in Kazimierz (two minutes from Wawel Castle), used to be a schoolhouse, and if you look hard the signs are still there to see. The breakfast room – with its walls full of tableaux, tasteful bric-a-brac and the whiff of a bohemian salon – has more character and imagination than a thousand chain or "specialty"
hotels
. They lay the tables with lace cloths and bring fresh juice and coffee.
ul. Swietej Agnieszki 5, +48( 12) 424 3131,
alef.pl
presquerien
Mleczarnia Hostel, Warsaw
This great hostel in Warsaw welcomes you with an elegant atmosphere from the late 19th century. Imagine rooms with wooden beds, little lamps and photographs – everything is arranged and decorated with a lot of love. On the other hand, I didn' t miss any modern comforts – I had a modern bathroom and could check my email every night. It's in the heart of the city, very near to the medieval market square.
ul. Wlodkowica, +48 (0) 71 787 7570,
mleczarniahostel.pl
Sissi
---
CULTURE
Lublin Castle art gallery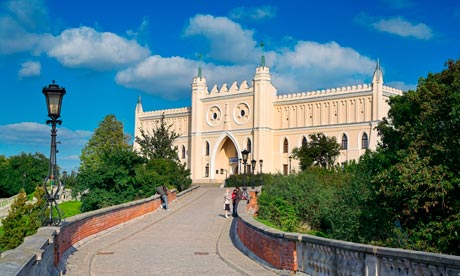 Lublin castle is a neo-gothic 1820s construction, with gardens and rooms of Polish art. There is an amazing ethnography section, with modern folk art. This is where I discovered the work of Stanislaw Ignancy Witkiewicz (1885-1939), part of the "formists" group influenced by cubism and futurism.
ul. Zamkowa 9,
eng.zamek.lublin.pl
beckybeast
Pionier Cinema, Szczecin
Built in 1909, this is the oldest cinema in the world that is still working and functioning as a cinema. There is an old room with original interior alongside a more modern screen. Part of the Cinema Europa group, this cinema shows foreign language movies as well as current Polish releases.
ul. Wojska Polskiego 2,
kino-pionier.com.pl
Lydkid
Galicja JewishMuseum, Krakow
Galicja was once the heart of eastern European Jewish culture. This museum gives a great introduction and interesting overview of this fascinating culture. The permanent exhibition, Traces of Memory, is a contemporary look at the Jewish past in Poland, featuring the work of the late photographer Chris Schwarz.
ul. Dajwór 18,
galiciajewishmuseum.org
Sissi
Nowy Targ Market, Krakow
Hala Targowa is a bit off the beaten track – I found it by getting lost – but is a genuine market for locals, piled up with produce from nearby farms, and also cheap. There's wonderful fruit and veg in mouthwatering displays, as well as flowers, cheese, bread and meat. A short walk away is where pigeon and rabbit swapping goes on in another small market, at Plac Nowy, twice a week: you have to get up early but it's worth it.
ul. Daszynskiego
Liketotravel
Nozyk Synagogue, Warsaw
The Nozyk Synagogue is the only synagogue in Warsaw that survived the war. It is in an area that was originally inside the Little Ghetto in 1940, but was later outside after the ghetto was made smaller, following deportations. It was named for the man who founded it in 1900, Zalman ben Menasze Nozyk. Inside, you will see the cabinet containing the Torah scrolls and the bema (or pulpit) in the nave. The upper galleries are set aside for women.
ul. Twarda 6
Sissi
Botanical Gardens, Powsin
If you can be bothered hiking out of Warsaw, this huge botanical gardens is nothing as grand as Kew, but is beautiful all the same. There is a magnificent magnolia collection in April if I remember rightly, but is well worth the trek at any time .
ul. Prawdziwka 2,
ogrod-powsin.pl
Walski
Warsaw University Library, Warsaw
This is a really good place for a walk or a relaxing afternoon with a book. It's so much more than a university library. The building has a garden on the roof with exotic plants, a small waterfall and benches where you can sit and read in the sun. From a small balcony in one corner, there is a view of the Vistula River and some of its bridges. Since the building is partly made of glass, the roof is a perfect place to watch students as they rush up and down the stairs.
Chopin concerts in Royal Lazienki park, Warsaw
A holiday break in Warsaw would not be complete without a visit on Sunday to Lazienki park to sit on the benches or grass surrounding the imposing memorial to Frederic Chopin. Here world-famous pianists, laureates from renowned festivals and professors from leading music academies of music perform his piano solos. It is an incomparable moment as silence descends upon the gathered audience and only the notes of the piano fill the air.Concerts are free Sundays at noon and again at 4.00pm from mid May until end of September.
lilyanna
Old Town Market Place, Warsaw
Most eastern European cities have a beautiful town square tucked away somewhere, but Warsaw's old town market place (Rynek Starego Miasta) is unique. The old town was completely flattened in the second world war – one of Warsaw's sister cities is Coventry. Between 1946 and 1980 this square, and the rest of the old centre, was painstakingly rebuilt, using as many of the existing bricks and detail as could be salvaged from the rubble. Warsaw is truly a phoenix city. The whole area is now a world heritage site and there is a castle, cobbles and horse-drawn carriages to beat the best of them. The Warsaw Historical Museum is in the square if you want to find out more. Afterwards, watch the world go by at one of the square's restaurants – try some serious Polish food such as pork knuckle with sauerkraut.
troutiemcfish
---
COUNTRYSIDE
Gubalówka, Zakopane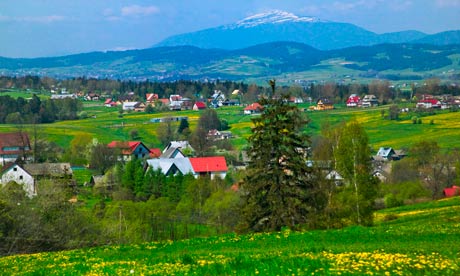 Rising to 1,123m and more than 300m above Zakopane, Gubalówka offers magnificent views of the town itself, the Tatra mountains, the Podhale region and the Beskid mountains beyond it. During the spring and summer, Gubalówka is a great starting place for a Zakopane visit. Offering a few kilometres of hiking trails, breathtaking views and eating establishments. Several gentle and rough hiking trails starting in Zakopane will get you to the top of Gubalówka. For 10 months of the year (except May and October), there is a rail line to the top from the market in Zakopane.
zakopane-life.com/poland/gubalowka-hill-podhale
Chris2005
Kazimierz Dolny
This is a small town on the banks of the Vistula river, about 100km south of Warsaw. It is an architectural gem, a Renaissance town with ruins of a medieval castle. It is surrounded by beautiful unspoilt countryside, with very unusual deep ravines – great for walkers. There are lots of nice bars and restaurants and a terrific tea room called Herbaciarnia u Dziwisza.
kazimierzdolny.eu
kanary